Breeding Master
Easy and powerful dog breeding software for Mac OS and Windows.
Breeding Master
is an easy and powerful
dog breeding software
for Mac OS and Windows. It allows to keep all breeder's information in one place. Breeding Master tracks animals, owners and breeders, tracks information about shows, it keeps health parameters, vaccination dates, images and much more.
What`s new in 4.1:
Added: Highlighting for common ancestors in pedigree.
Added: Search for a dog by pedigree number.
Added: Check for unique dog name before added new one.
Added: Exprot to CSV file now include only dogs that passed filter. So you can export all dogs or only dogs related to belonging to specified breeder for example.
Improved: Fix error in IC calculationg for some difficult cases.
Download the free, fully functional 30-day trial version of Breeding Master software. Once the trial period is over, you may purchase Breeding Master online with a few mouse clicks.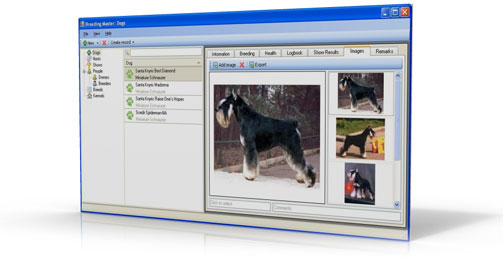 ---
Top 15 reasons to try Breeding Master
It Is Easy

Breeding Master looks like generic office application. It takes a few minutes to understand how to use it.

It Keeps Everything

Breeding Master keeps dogs, people, kennels, events, awards and anything you want to keep. All your data will be stored in one place.

It Builds Pedigrees

Breeding Master allows to build pedigrees. You can define number and order of fields and print the result.

It Keeps Shows

Breeding Master allows to keep all show-related information. It stores points, awards and judgement reports in one place.

It Tracks Pairs

Breeding Master track pairs and their offsprings. Plan and track pairings, litters and everything between.

It Keeps Images

Breeding Master allows to store pictures of anything. Add photos of your dogs on show, put some fun images of their play, add your comments. Export them back, if you need this.

It Allows to Search and Find

Breeding Master searches for dog, person, kennel or show while you are typing.

It Stores Kennels

Keep kennel's addresses, phones, e-mails and homepages. Add your remarks, browse and search them.

It Stores Breeds

Build your own list of breeds. Add remarks, and select dogs.

It Stores People

Store breeders and owners, their addresses and e-mails, browse their dogs, add your remarks, search them.

It Keeps All Data In One Place

Breeding Master keeps all important data linked together. It keeps dogs, owners, breeders, pairs, shows, kennels etc. You will never lost something important with it.

It Shows Relations

Find parents and offsprings, owners and breeders, list dogs by breed, kennel or nest. Breeding Master will help you with it.

You Can Trust It

Breeding Master will not lose your data. It allows to backup and restore your data. Built-in advanced integrity checkings make your data 100% safe.

You Can Improve It

We are open to innovations, we want to improve Breeding Master and you may help. Send us your wishes and we'll try to implement them in future releases.

It Is Free To Try

You may download and try Breeding Master absolutely free. So, why not?
---
No matter what you use to keep your information, give Breeding Master a try. Download, install and try it absolutely free for 30 days. Click here to download free, 30-day trial now.
---